Moonlight 2016
Director: Barry Jenkins
Film Synopsis:
A young man deals with his dysfunctional home life and comes of age in Miami during the "War on Drugs" era. The story of his struggle to find himself is told across three defining chapters in his life as he experiences the ecstasy, pain, and beauty of falling in love while grappling with his own sexuality.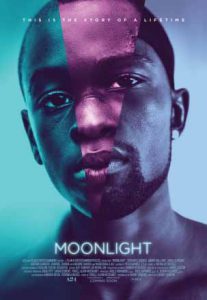 The  Handmaiden: 2016
Director: Park Chan-wook
Film Synopsis:
From PARK Chan-wook, the celebrated director of OLDBOY, LADY VENGEANCE and STOKER, comes a ravishing new crime drama. PARK presents a gripping and sensual tale of two women – a young Japanese Lady living on a secluded estate, and a Korean woman who is hired to serve as her new handmaiden, but is secretly plotting with a conman to defraud her of a large inheritance. Inspired by the novel Fingersmith by British author Sarah Waters, THE HANDMAIDEN borrows the most dynamic elements of its source material and combines it with PARK Chan-wook's singular vision to create an unforgettable viewing experience.
Fences 2016
Director: Denzel Washington
Film Synopsis
FENCES an African-American father as he struggles to raise his family in the 1950 Pittsburgh while coming to terms with his past. Directed by Denzel Washington from a screenplay by August Wilson, adapted from Wilson's Pulitzer Prize and Tony Award-winning play.
Opening at
Elle: 2016
Director: Paul Verhoeven
Film Synopsis:
Michèle seems indestructible. Head of a leading video game company, she brings the same ruthless attitude to her love life as to business. Being attacked in her home by an unknown assailant changes Michèle's life forever. When she resolutely tracks the man down, they are both drawn into a curious and thrilling game—a game that may, at any moment, spiral out of control.
Category