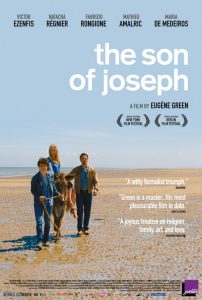 Review: 'The Son of Joseph' Fancifully Repackages the Nativity
THE SON OF JOSEPH NYT Critics' Pick Directed by Eugène Green Drama 1h 53m
By BEN KENIGSBERGJAN.
Natacha Régnier, Victor Ezenfis and Fabrizio Rongione in "The Son of Joseph." Credit Kino Lorber
Eugène Green, a nearly five-decade resident of France born in New York, makes films that draw as much on architecture, paintings, music and theater as on cinema. If his unadorned high-art allusions can make him an acquired taste, his latest farce, "The Son of Joseph," is his most accessible film since "The Living World," from 2003.
Divided into five sections, each named after a biblical episode, "The Son of Joseph" is a fanciful repackaging of the Nativity (the media notes, perhaps seizing on Hollywood's zest for recycling, call it a "reboot"): A sullen teenager, Vincent (Victor Ezenfis), raised by a nurse (Natacha Régnier), learns his father is a vain publisher, Oscar (Mathieu Amalric), who can't even keep track of how many children he has.
Stalking Oscar at his hotel office (Mr. Green appears as the concierge), Vincent meets Joseph (Fabrizio Rongione), Oscar's kind, disinherited brother. Joseph accompanies Vincent to the Louvre and teaches him about art and life. He may even be a match for Vincent's mother. (Her name, it turns out, is Marie.)
Mr. Green's taste for frontal compositions and clipped editing sometimes recalls the filmmaker Robert Bresson, although Bresson wasn't known for his throwaway humor. (Probably not many teenagers' bedrooms include replicas of Caravaggio's "The Sacrifice of Isaac," and Maria de Medeiros has a funny role as a perpetually confused literary critic.)
"The Son of Joseph" can be trying in its whimsy, yet it builds to a lovely finale that evokes the Bible, the French Resistance and the surreal.