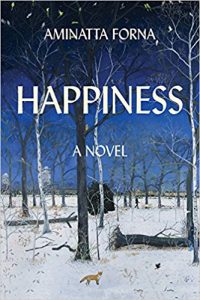 "Not since Remains of the Day has an author so skillfully revealed the way history's layers are often invisible to all but its participants . . . Gorgeous."―John Freeman, Boston Globe on The Hired Man
London. A fox makes its way across Waterloo Bridge. The distraction causes two pedestrians to collide―Jean, an American studying the habits of urban foxes, and Attila, a Ghanaian psychiatrist there to deliver a keynote speech. From this chance encounter, Aminatta Forna's unerring powers of observation show how in the midst of the rush of a great city lie numerous moments of connection.
Attila has arrived in London with two tasks: to deliver a keynote speech on trauma, as he has done many times before; and to contact the daughter of friends, his "niece" who hasn't called home in a while. Ama has been swept up in an immigration crackdown, and now her young son Tano is missing.
When, by chance, Attila runs into Jean again, she mobilizes the network of rubbish men she uses as volunteer fox spotters. Security guards, hotel doormen, traffic wardens―mainly West African immigrants who work the myriad streets of London―come together to help. As the search for Tano continues, a deepening friendship between Attila and Jean unfolds.
Meanwhile a consulting case causes Attila to question the impact of his own ideas on trauma, the values of the society he finds himself in, and a grief of his own. In this delicate tale of love and loss, of cruelty and kindness, Forna asks us to consider the interconnectedness of lives, our co-existence with one another and all living creatures, and the true nature of happiness.
Editorial Reviews
Review
Praise for Happiness:
"Happiness is reading Aminatta Forna's foxy fare" ―Vanity Fair
"Arresting . . . Throughout Happiness, Forna stops in our tracks . . . Reminiscent at times of Michael Ondaatje's novel Anil's Ghost. . . Happiness is a meditation on grand themes: Love and death, man and nature, cruelty and mercy. But Forna folds this weighty matter into her buoyant creation with a sublimely delicate touch." ―Washington Post
"Aminatta Forna expertly weaves her characters' stories, past and present, in and out of the larger story of London, which becomes as rich a character as the human beings and, indeed, the foxes; and she makes us care deeply about them all, the foxes, the people and the city. A terrific novel." ―Salman Rushdie, author of The Golden House
"From the understated and inexorable pull of plot and emotion to the luxuriousness of the details of varied ways of living and being to the tidal pull of language, Happiness is a great accomplishment." ―Viet Thanh Nguyen, author of The Sympathizer and The Refugees
"A symphony on coexistence between partners in a marriage, between groups in a city, between strangers and old loves, and between a person and their memories, their past selves."―THE Magazine
"Absorbing . . . Forna's prose is precise and often stunning in its clarity . . . [Happiness] burns brightly when it matters most."―Seattle Times
"A tightly focused two-hander . . . Happiness starts out as a novel about coincidence―chance encounters, twists of fate―and turns into one about coexistence: how to overcome intolerance, accept differences and live in harmony . . . A subtle, considered yet deeply resonant tale, one which sensitively and intelligently highlights connection over division and kindness over cruelty." ―Minnesota Star-Tribune
"Piercingly empathetic, Forna's latest explores instinct, resilience, and the complexity of human coexistence, reaffirming her reputation for exceptional ability and perspective." ―Kirkus Reviews (starred review)
"The overarching message tucked into Scottish and Sierra Leonian writer Forna's quietly resonant novel is this: Every living thing is the net sum of its history, and we carry the weight of our past on our shoulders.…Intricately woven…Forna's novel is ultimately a mesmerizing tale studded with exquisite writing" ―Booklist (starred review)
"Mesmerizing . . . Happiness is one of a handful of contemporary novels that take both the human condition and the animal condition seriously. Entering Forna's sweeping universe transports you to a place that feels familiar, but also totally feral and full of surprises."―Financial Times (UK)
"Aminatta Forna has crafted a complex and deeply human story. African in its worldview of convergence and simultaneity, yet universal in its range of possibility and choice. Nuanced and delightful, this story takes place inside the reader's own nostalgia. Gorgeous." ―Chris Abani, author of The Secret History of Las Vegas
"Forna's novel is unusual and engaging, heartfelt and ambitiously crafted."― Shelf Awareness
"Happiness is one of the best novels I've read in quite a while―intelligent, deep, and poignant. It sheds smooth, unflinching light upon the unseen. Forna is at the top of her game." ――Rabih Alameddine, author of The Angel of History and An Unnecessary Woman
"Happiness is a deeply moving novel about love, trauma, and the ties that bind us together. Beautifully written and ingeniously allegorical. Aminatta Forna is a writer of phenomenal talent, with a clear eye, a fearless voice, and an extraordinary range."―Laila Lalami, author of The Moor's Account
"Piercingly empathetic, Forna's latest explores instinct, resilience, and the complexity of human coexistence, reaffirming her reputation for exceptional ability and perspective." ―Kirkus Reviews (starred review)
"Elegant . . . Potent and immersive . . . Forna's gift for characterization allows her to ask genuine, practical questions about the delicate problems of the human condition in this ambitious novel." ―Publishers Weekly
"It is a novel that carries a tremendous sense of the world, where I looked up upon finishing and sensed a shift in what I thought I knew, what I wanted to know. What a gift. . . Readers are in for a treat." ―The Millions, "A Year in Reading: Paul Yoon"
About the Author
Aminatta Forna is the author of the novels Ancestor Stones, The Memory of Love, and The Hired Man, as well as the memoir The Devil That Danced on the Water. Forna's books have been translated into sixteen languages. Her essays have appeared in Granta, The Guardian, The Observer, and Vogue. She is currently the Lannan Visiting Chair of Poetics at Georgetown University.