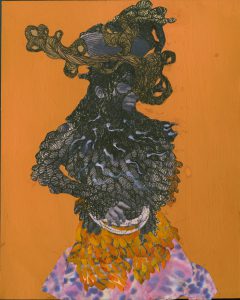 Kenyatta A. C. Hinkle
Residency and Exhibition:
January 17 – April 7, 2016
About the Artist
Kenyatta A.C. Hinkle is an interdisciplinary visual artist, writer, educator and performer who lives and works in Los Angeles and Oakland, CA. In her Artist Lab Residency at 18th Street Arts Center, her exhibition Kentifrica Is: Re-imaging Collective Geographies will explore diaspora as a space of cultural invention. Her practice fluctuates between collaborations and participatory projects with alternative gallery spaces within various communities to projects that are intimate and based upon her private experiences in relationship to historical events and contexts. Her artwork and experimental writing has been exhibited and performed at The Studio Museum in Harlem, NY, Project Row Houses in Houston, TX, The Hammer Museum in Los Angeles, CA, The Museum of Art at The University of New Hampshire, The Museum of the African Diaspora (MoAD) in San Francisco and What If The World Gallery in Capetown, South Africa. Hinkle was the youngest artist to participate in the multi-generational biennial Made in LA 2012. She is also the recipient of several fellowships and grants including: The Cultural Center for Innovation's Investing in Artists Grant, Social Practice in Art (SPart-LA), Jacob K Javits Fellowship for Graduate Study, The Fulbright Student Fellowship, and The Rema Hort Mann Foundation's Emerging Artists Award. Her writing has appeared in Not That But This, Obsidian Journal, IPI Press, and the anthology Among Margins: Critical & Lyrical Essays on Aesthetics, edited by Fox Frazier-Foley and Diana Arterian. Hinkle is represented by Jenkins Johnson Gallery in San Francisco, CA.
UPCOMING EVENTS:
(All events are free and open to the public)
OPENING RITUAL: Where is My Ain't?
Thursday, January 19, 2017 | 4-6 PM
UCLA Hammer Museum Courtyard
10899 Wilshire Blvd, Los Angeles
https://hammer.ucla.edu/visit/
RECEPTION AND PANEL DISCUSSION: Kentifrica Is or Kentifrica Ain't
Saturday, February 25, 2017 | 6-8 PM
18th Street Arts Center's Main Gallery
1639 18th Street, Santa Monica
KENTIFRICAN POTLUCK
Wednesday, March 8, 2017 | 1-3 PM
18th Street Arts Center's Main Gallery
1639 18th Street, Santa Monica
CULMINATING RITUAL: Call to Action
Friday, April 7, 2017 | 6-8 PM
18th Street Arts Center's Main Gallery
1639 18th Street, Santa Monica
Artist Website
Press Contact
SUE BELL YANK
Director of Communications & Outreach
(310) 453-3711 x104
Email