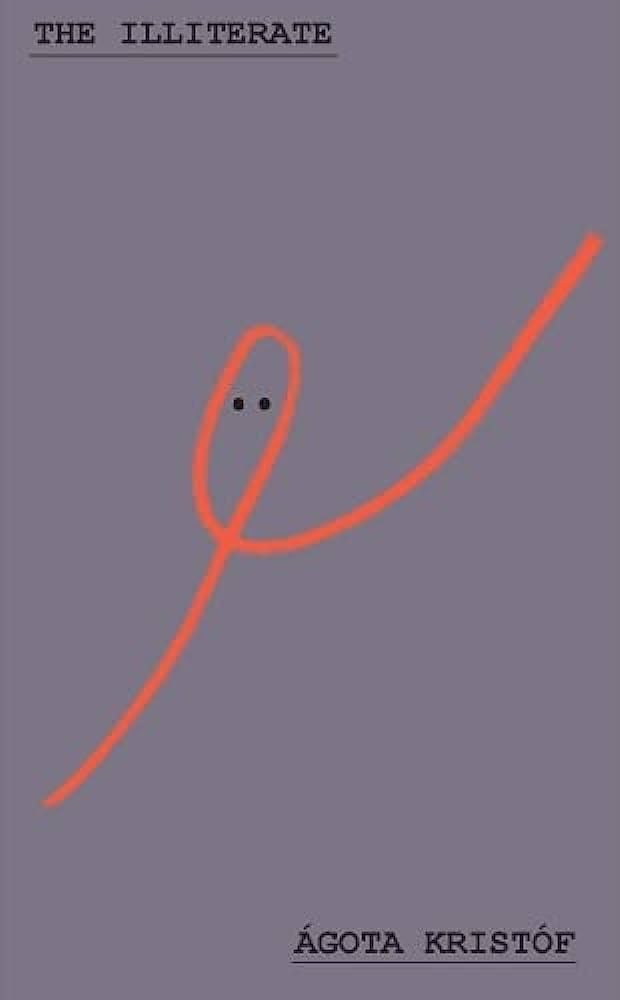 Synopsis:
In 2004, late in her legendary career, Ágota Kristóf wrote this slim dagger of a memoir about being a refugee after fleeing Hungary in 1956
Narrated in a series of stark, brief vignettes, The Illiterate is Ágota Kristóf's memoir of her childhood, her escape from Hungary in 1956 with her husband and small child, her early years working in factories in Switzerland, and the writing of her first novel, The Notebook. Few writers can convey so much in so little space. Fierce yet almost pointedly flat and documentarian in tone, Kristóf portrays with a disturbing level of detail and directness an implacable message of loss: first, she is forced to learn Russian as a child (with the Soviet takeover of Hungary, Russian became obligatory at school); next, at age twenty-one, she finds herself required to learn French to survive: I have spoken French for more than thirty years, I have written in French for twenty years, but I still don't know it. I don't speak it without mistakes, and I can only write it with the help of dictionaries, which I frequently consult. It is for this reason that I also call the French language an enemy language. There is a further reason, the most serious of all: this language is killing my mother tongue.
Editorial Reviews
Review
"
The Illiterate
is the story of a girl who lived for the written word―'I read. It is like a disease,' she begins―and of what happened to her when her language was taken away. This is a book of relevance today because we live in a world of migration, and Kristóf  shows it to us from within. It is one of the last books she wrote, slim and clean, but containing the accumulations of a lifetime."
―
John Self,
Independent on Sunday
"Her descriptions―of those with whom she escaped and whose sense of isolation eventually leads them back to Hungary even at the cost of their lives, as well as those whose sense of despair brings them to suicide―offer an uncomfortable insight into the extreme vulnerability of those obliged to seek asylum abroad."
―
Eimear McBride,
Times Literary Supplement
"This story of exile and loss, of how, for the refugee, the country in which she eventually settles, however kind and well-meaning its inhabitants, will always be a poor and inadequate substitute for the country of one's birth, its language always an alien thing, however proficient she becomes in it―this is the story of so many people today that it is perhaps the story of our time, and Ágota Kristóf should perhaps be seen as our transnational bard."
―
Gabriel Josipovici
"Stark and haunting."
―
The San Francisco Chronicle
"A vision of considerable depth and complexity, a powerful portrait of the nobility and perversity of the human heart."
―
The Christian Science Monitor
"A tiny jewel of a book."
―
Kirkus Reviews
"Sentences hurled with perfect aim at the border between one language and another is quite enough to be going on with as a writer's life's work. But Kristóf's rebel vocabulary does still more; it 
is 
more. Think of the various ways in which verbal ornaments act as a veil, suggesting (or negotiating a perception of) fluency. Encountering Kristófian descriptions―those that would rather omit ornament than pursue recognition of having been written with the "inspired" flow of a native speaker―the complacent reader is introduced to profound uncertainties."
―
Helen Oyeyemi
"In fifty pages she does what others might spend a whole career aiming for. Pure genius."
―
Max Porter
About the Author
Ágota Kristóf
was born in Csikvánd, Hungary, in 1935. Aged twenty-one, Kristóf and her husband and four-month-old daughter fled the Soviet repression of the Hungarian Uprising to Austria and were resettled in French-speaking Switzerland. Working in a factory, Kristóf slowly learned the language of her adopted country. Her first novel,
The Notebook
(1986), won the European Prize for French literature and was translated into forty languages. Kristóf's other work included plays and stories as well as
The Proof
(1988) and
The Third Lie
(1991), which complete the trilogy begun with
The Notebook
. She died in 2011.
Nina Bogin was born in New York City and grew up on the north shore of Long Island. She attended Kirkland College (now Hamilton College) and received a B.A. from New York University. She has lived in France since 1976, has published three books of poetry, and she has received a National Endowment for the Arts Grant.