Transcendent Kingdom: A novel by Yaa Gyasi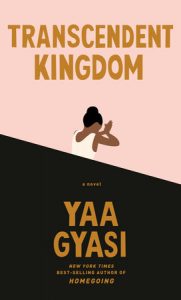 Yaa Gyasi's stunning follow-up to her acclaimed national best seller Homegoing is a powerful, raw, intimate, deeply layered novel about a Ghanaian family in Alabama.
Synopsis:
Gifty is a sixth-year PhD candidate in neuroscience at the Stanford University School of Medicine studying reward-seeking behavior in mice and the neural circuits of depression and addiction. Her brother, Nana, was a gifted high school athlete who died of a heroin overdose after an ankle injury left him hooked on OxyContin. Her suicidal mother is living in her bed. Gifty is determined to discover the scientific basis for the suffering she sees all around her. But even as she turns to the hard sciences to unlock the mystery of her family's loss, she finds herself hungering for her childhood faith and grappling with the evangelical church in which she was raised, whose promise of salvation remains as tantalizing as it is elusive. Transcendent Kingdom is a deeply moving portrait of a family of Ghanaian immigrants ravaged by depression and addiction and grief–a novel about faith, science, religion, love. Exquisitely written, emotionally searing, this is an exceptionally powerful follow-up to Gyasi's phenomenal debut.
Editorial Reviews
Review
"A book of blazing brilliance… of profound scientific and spiritual reflection that recalls the works of Richard Powers and Marilynne Robinson… A double helix of wisdom and rage twists through the quiet lines…Thank God, we have this remarkable novel."
–Ron Charles, The Washington Post
"Poised to be the literary event of the fall."
–Entertainment Weekly
"I would say that
Transcendent Kingdom
is a novel for our time (and it is) but it is so much more than that. It is a novel for all times. The splendor and heart and insight and brilliance contained in the pages holds up a light the rest of us can follow."
–Ann Patchett
"Absolutely transcendent. A gorgeously woven narrative about a woman trying to survive the grief of a brother lost to addiction and a mother trapped in depression while pursuing her ambitions. Not a word or idea out of place. Completely different from
Homegoing
. THE RANGE. I am quite angry this is so good."
–Roxane Gay
"[Transcendent Kingdom] will stay with you long after you've finished it."
–Real Simple
"Meticulous, psychologically complex…At once a vivid evocation of the immigrant experience and a sharp delineation of an individual's inner struggle, the novel brilliantly succeeds on both counts."
—Publishers Weekly [starred review]
"Gyasi's wise second novel pivots toward intimacy… In precise prose, Gyasi creates an ache of recognition, especially for readers knowledgeable about the wreckage of addiction. Still, she leavens this nonlinear novel with sly humor… The author is astute about childhood grandiosity and a pious girl's deep desire to be good; she conveys in brief strokes the notched, nodding hook of heroin's oblivion…final chapter that gives readers a taste of hard-won deliverance."

—Kirkus Reviews [starred review]
"Unforgettable… Transcendent Kingdom has an expansive scope that ranges into fresh, relevant territories—much like the title, which suggests a better world beyond the life we inhabit."

—BookPage [starred review]
"With deft agility andundeniable artistry, Gyasi's latest is an eloquent examination of resilient survival."
–Booklist
About the Author
YAA GYASI was born in Ghana and raised in Huntsville, Alabama. She holds a BA in English from Stanford University and an MFA from the Iowa Writers' Workshop, where she held a Dean's Graduate Research Fellowship. She lives in Brooklyn.