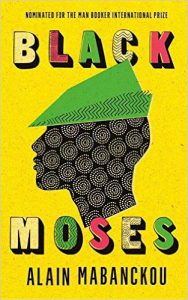 Black Moses: by Alain Mabanckou (Author), Helen Stevenson (Translator)
A rollicking new novel described as "Oliver Twist in 1970s Africa" (Les Inrockuptibles) by the finalist for the Man International Booker Prize
It's not easy being Tokumisa Nzambe po Mose yamoyindo abotami namboka ya Bakoko. There's that long name of his for a start, which means, "Let us thank God, the black Moses is born on the lands of the ancestors." Most people just call him Moses. Then there's the orphanage where he lives, run by a malicious political stooge, Dieudonné Ngoulmoumako, and where he's terrorized by two fellow orphans—the twins Songi-Songi and Tala-Tala.
But after Moses exacts revenge on the twins by lacing their food with hot pepper, the twins take Moses under their wing, escape the orphanage, and move to the bustling port town of Pointe-Noire, where they form a gang that survives on petty theft. What follows is a funny, moving, larger-than-life tale that chronicles Moses's ultimately tragic journey through the Pointe-Noire underworld and the politically repressive world of Congo-Brazzaville in the 1970s and 80s.
Mabanckou's vivid portrayal of Moses's mental collapse echoes the work of Hugo, Dickens, and Brian DePalma's Scarface, confirming Mabanckou's status as one of our great storytellers. Black Moses is a vital new extension of his cycle of Pointe-Noire novels that stand out as one of the grandest, funniest, fictional projects of our time.
Editorial Reviews
Praise for the French edition:
"A delicious and delicate novel."
—Le Monde
"From the first sentence there is an ease and spirit, and you know instantly that this story is authentic. Alain Mabanckou has a gift."
—Le Figaro Littéraire
"A wonderful urban tale."
—Le Magazine Littéraire
"Tasty but light to begin with, then quickly built and powerful, ultimately shattering."
—Marianne
"He wields a sweet and fleshy tongue."
—La Vie
Praise for Alain Mabanckou's The Lights of Pointe-Noire:
"In lyrical and disarmingly serene prose, the author evokes shock, wonder, and sometimes dismay as he searches for his past…A tender, poetic chronicle of an exile's return."
—Kirkus
"This is a beautiful book, the past hauntingly reentered, the present truthfully faced, and the translation rises gorgeously to the challenge."
—Salman Rushdie
"Alain Mabanckou's joyous, vivid narrative style brings to life a frank, tender memoir."
—The Independent
"The author's real achievement is to capture a universal experience, one ever more common in the age of mass migration: what it means to come home after a long absence…Few books about Africa will find it easier to attract readers far away."
—The Economist
About the Author
Regarded as Francophone Africa's leading voice, novelist, poet, and essayist Alain Mabanckou was born in Congo and currently lives in Los Angeles, where he teaches literature at UCLA. He is the author of African Psycho, Broken Glass, Black Bazaar, Tomorrow I Will Be Twenty, and The Lights of Pointe-Noire (The New Press). In 2015 he was a finalist for the Man Booker International Prize and the Prix Goncourt des Lycéens. Helen Stevenson is a piano teacher, writer, and translator who lives in Somerset, England. Her translation of Mabanckou's The Lights of Pointe-Noire won the Grand Prix, 2015 French Voices Award.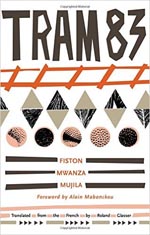 Tram 83 by Tram by Fiston Mwanza Mujila (Author), Roland Glasser (Translator), Alain Mabanckou (Foreword)
Two friends, one a budding writer home from abroad, the other an ambitious racketeer, meet in the most notorious nightclub—Tram 83—in a war-torn city-state in secession, surrounded by profit-seekers of all languages and nationalities. Tram 83 plunges the reader into the modern African gold rush as cynical as it is comic and colorfully exotic, using jazz rhythms to weave a tale of human relationships in a world that has become a global village.
About the author:
Fiston Mwanza Mujila (b. 1981, Lubumbashi, Democratic Republic of Congo) is a poet, dramatist, and scholar. Tram 83 is his award-winning and much raved-about debut novel that caused a literary sensation when published in France in August 2014.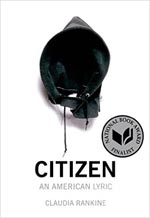 Citizen: An American Lyric by Claudia Rankine
Finalist for the National Book Award in Poetry *
* Winner of the National Book Critics Circle Award in Poetry * Finalist for the National Book Critics Circle Award in Criticism * Winner of the NAACP Image Award * Winner of the L.A. Times Book Prize * Winner of the PEN Open Book Award *
ONE OF THE BEST BOOKS OF THE YEAR:
The New Yorker, Boston Globe, The Atlantic, BuzzFeed, NPR. Los Angeles Times, Publishers Weekly, Slate, Time Out New York, Vulture, Refinery 29, and many more . . .
A provocative meditation on race, Claudia Rankine's long-awaited follow up to her groundbreaking book Don't Let Me Be Lonely: An American Lyric.
Claudia Rankine's bold new book recounts mounting racial aggressions in ongoing encounters in twenty-first-century daily life and in the media. Some of these encounters are slights, seeming slips of the tongue, and some are intentional offensives in the classroom, at the supermarket, at home, on the tennis court with Serena Williams and the soccer field with Zinedine Zidane, online, on TV-everywhere, all the time. The accumulative stresses come to bear on a person's ability to speak, perform, and stay alive. Our addressability is tied to the state of our belonging, Rankine argues, as are our assumptions and expectations of citizenship. In essay, image, and poetry, Citizen is a powerful testament to the individual and collective effects of racism in our contemporary, often named "post-race" society.
Editorial Reviews
Review
"[Citizen] is an especially vital book for this moment in time. . . . The realization at the end of this book sits heavily upon the heart: 'This is how you are a citizen,' Rankine writes. 'Come on. Let it go. Move on.' As Rankine's brilliant, disabusing work, always aware of its ironies, reminds us, 'moving on' is not synonymous with 'leaving behind.'" ―The New Yorker
"Citizen is audacious in form. But what is perhaps especially striking about the book is that it has achieved something that eludes much modern poetry: urgency." ―The New York Times
"So groundbreaking is Rankine's work that it's almost impossible to describe; suffice it to say that this is a poem that reads like an essay (or the other way around) – a piece of writing that invents a new form for itself, incorporating pictures, slogans, social commentary and the most piercing and affecting revelations to evoke the intersection of inner and outer life." ―Los Angeles Times
"Rankine brilliantly pushes poetry's forms to disarm readers and circumvent our carefully constructed defense mechanisms against the hint of possibly being racist ourselves. . . . Citizen throws a Molotov cocktail at the notion that reduction of injustice is the same as freedom." ―The New York Times Book Review
"Moving, stunning, and formally innovative­-in short, a masterwork." ―Salon
"Part protest lyric, part art book, Citizen is a dazzling expression of the painful double consciousness of black life in America." ―The Washington Post
"The book of the year is Claudia Rankine's Citizen. It would have been the book of any year…. Citizen asks us to change the way we look; we have to believe that that might lead to changing the way we live." ―The New Yorker's Page-Turner
"[Citizen] is one of the best books I've ever wanted not to read. . . . Its genius . . . resides in that capacity to make so many different versions of American life proper to itself, to instruct us in the depth and variety of our participation in a narrative of race that we recount and reinstate, even when we speak as though it weren't there." ―Slate
"Marrying prose, poetry, and the visual image, Citizen investigates the ways in which racism pervades daily American social and cultural life, rendering certain of its citizens politically invisible. Rankine's formally inventive book challenges our notion that citizenship is only a legal designation that the state determines by expanding that definition to include a larger understanding of civic belonging and identity, built out of cross-racial empathy, communal responsibility, and a deeply shared commitment to equality." ―National Book Award Judges' Citation
"Citizen is an anatomy of American racism in the new millennium, a slender, musical book that arrives with the force of a thunderclap. . . . This work is careful, loving, restorative witness is itself an act of resistance, a proof of endurance." ―Bookforum
"Accounts of racially charged interactions, insidious and flagrant, transpiring in private and in the public eye, distill the immediate emotional intensity of individual experience with tremendous precision while allowing ambiguity, ambivalence, contradiction, and exhaustion to remain in all their fraught complexity. . . . Once again Rankine inspires sympathy and outrage, but most of all a will to take a deep look at ourselves and our society." ―Publishers Weekly, starred review
"A prism of personal perspectives illuminates [Rankine's] meditations on race. . . . Powerful." ―Kirkus Reviews
"Claudia Rankine's Citizen comes at you like doom. It's the best note in the wrong song that is America. Its various realities–'mistaken' identity, social racism, the whole fabric of urban and suburban life–are almost too much to bear, but you bear them, because it's the truth. Citizen is Rankine's Spoon River Anthology, an epic as large and frightening and beautiful as the country and various emotional states that produced it." ―Hilton Als
About the Author
Claudia Rankine is the author of four previous books, including Don't Let Me Be Lonely: An American Lyric. She currently is a chancellor of the Academy of American Poets and teaches at Pomona College.
Homegoing by Yaa Gyasi
"Homegoing is an inspiration." —Ta-Nehisi Coates
The unforgettable New York Times best seller begins with the story of two half-sisters, separated by forces beyond their control: one sold into slavery, the other married to a British slaver. Written with tremendous sweep and power, Homegoing traces the generations of family who follow, as their destinies lead them through two continents and three hundred years of history, each life indeliably drawn, as the legacy of slavery is fully revealed in light of the present day.
Effia and Esi are born into different villages in eighteenth-century Ghana. Effia is married off to an Englishman and lives in comfort in the palatial rooms of Cape Coast Castle. Unbeknownst to Effia, her sister, Esi, is imprisoned beneath her in the castle's dungeons, sold with thousands of others into the Gold Coast's booming slave trade, and shipped off to America, where her children and grandchildren will be raised in slavery. One thread of Homegoing follows Effia's descendants through centuries of warfare in Ghana, as the Fante and Asante nations wrestle with the slave trade and British colonization. The other thread follows Esi and her children into America. From the plantations of the South to the Civil War and the Great Migration, from the coal mines of Pratt City, Alabama, to the jazz clubs and dope houses of twentieth-century Harlem, right up through the present day, Homegoing makes history visceral, and captures, with singular and stunning immediacy, how the memory of captivity came to be inscribed in the soul of a nation.
Editorial Reviews:
"Gyasi's characters are so fully realized, so elegantly carved—very often I found myself longing to hear more. Craft is essential given the task Gyasi sets for herself—drawing not just a lineage of two sisters, but two related peoples. Gyasi is deeply concerned with the sin of selling humans on Africans, not Europeans. But she does not scold. She does not excuse. And she does not romanticize. The black Americans she follows are not overly virtuous victims. Sin comes in all forms, from selling people to abandoning children. I think I needed to read a book like this to remember what is possible. I think I needed to remember what happens when you pair a gifted literary mind to an epic task. Homegoing is an inspiration."
—Ta-Nehisi Coates, National Book Award-winning author of Between the World and Me
"Homegoing is a remarkable feat—a novel at once epic and intimate, capturing the moral weight of history as it bears down on individual struggles, hopes, and fears. A tremendous debut."
—Phil Klay, National Book Award-winning author of Redeployment
"I could not put this book down"
—Roxane Gay
"It is hard to overstate how much I LOVE this book"
—Michele Norris
About the Author:
YAA GYASI was born in Ghana and raised in Huntsville, Alabama. She holds a BA in English from Stanford University and an MFA from the Iowa Writers' Workshop, where she held a Dean's Graduate Research Fellowship. She lives in Berkeley, California.
The Vegetarian by Han Kang (Author)
A beautiful, unsettling novel about rebellion and taboo, violence and eroticism, and the twisting metamorphosis of a soul
Before the nightmares began, Yeong-hye and her husband lived an ordinary, controlled life. But the dreams—invasive images of blood and brutality—torture her, driving Yeong-hye to purge her mind and renounce eating meat altogether. It's a small act of independence, but it interrupts her marriage and sets into motion an increasingly grotesque chain of events at home. As her husband, her brother-in-law and sister each fight to reassert their control, Yeong-hye obsessively defends the choice that's become sacred to her. Soon their attempts turn desperate, subjecting first her mind, and then her body, to ever more intrusive and perverse violations, sending Yeong-hye spiraling into a dangerous, bizarre estrangement, not only from those closest to her, but also from herself.
Celebrated by critics around the world, The Vegetarian is a darkly allegorical, Kafka-esque tale of power, obsession, and one woman's struggle to break free from the violence both without and within her.
Editorial Reviews:
"Surreal…[A] mesmerizing mix of sex and violence…vivid, chiseled…Like a cursed madwoman in classical myth, Yeong-hye seems both eerily prophetic and increasingly unhinged." —Alexandra Alter, The New York Times
"Ferocious…[Han Kang] has been rightfully celebrated as a visionary in South Korea… Han's glorious treatments of agency, personal choice, submission and subversion find form in the parable. There is something about short literary forms – this novel is under 200 pages – in which the allegorical and the violent gain special potency from their small packages… Ultimately, though, how could we not go back to Kafka? More than 'The Metamorphosis,' Kafka's journals and 'A Hunger Artist' haunt this text." —Porochista Khakpour, New York Times Book Review
"Astonishing…Kang viscerally explores the limits of what a human brain and body can endure, and the strange beauty that can be found in even the most extreme forms of renunciation." —Entertainment Weekly
"Sometimes how a book or a film puzzles you—how it may mystify even its own creator—is the main point. The way it keeps slithering out of your grasp. The way it chats with you in the parlor even as it drags something nameless and heavy through the woods out back….That's the spirit in which to approach The Vegetarian… The Vegetarian has an eerie universality that gets under your skin and stays put irrespective of nation or gender."—Laura Miller, Slate.com
"This book is both terrifying and terrific."—Lauren Groff
"The Vegetarian is incredibly fresh and gripping, due in large part to the unforgettable narrative structure… Han Kang has created a multi-leveled, well-crafted story that does what all great stories do: immediately connects the unique situation within these pages to the often painful experience of living."—The Rumpus
"Disquieting, thought-provoking and precisely informed." —Shelf Awareness
"Shocking…The writing throughout is precise and spare, with not a word wasted. There are no tricks. Han holds the reader in a vice grip…The Vegetarian quickly settles into a dark, menacing brilliance that is similar to the work of the gifted Japanese writer Yoko Ogawa in its devastating study of psychological pain…The Vegetarian is more than a cautionary tale about the brutal treatment of women: it is a meditation on suffering and grief. It is about escape and how a dreamer takes flight. Most of all, it is about the emptiness and rage of discovering there is nothing to be done when all hope and comfort fails….A work of savage beauty and unnerving physicality."—Irish Time
About the Author:
Han Kang was born in 1970 in South Korea. In 1993 she made her literary debut as a poet, and was first published as novelist in 1994. A participant of the Iowa Writers' Workshop, Han has won the Man Booker International Prize, the Yi Sang Literary Prize, the Today's Young Artist Award, and the Manhae Literary Prize. She currently works as a professor in the Department of Creative Writing at the Seoul Institute of the Arts.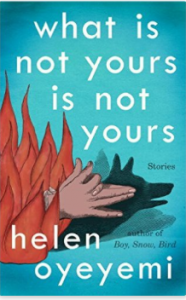 What Is Not Yours Is Not Yours by Helen Oyeyemi
From the award-winning author of Boy, Snow, Bird and Mr. Fox comes an enchanting collection of intertwined stories.
Playful, ambitious, and exquisitely imagined, What Is Not Yours Is Not Yours is cleverly built around the idea of keys, literal and metaphorical. The key to a house, the key to a heart, the key to a secret—Oyeyemi's keys not only unlock elements of her characters' lives, they promise further labyrinths on the other side. In "Books and Roses" one special key opens a library, a garden, and clues to at least two lovers' fates. In "Is Your Blood as Red as This?" an unlikely key opens the heart of a student at a puppeteering school. "'Sorry' Doesn't Sweeten Her Tea" involves a "house of locks," where doors can be closed only with a key—with surprising, unobservable developments. And in "If a Book Is Locked There's Probably a Good Reason for That Don't You Think," a key keeps a mystical diary locked (for good reason).
Oyeyemi's creative vision and storytelling are effervescent, wise, and insightful, and her tales span multiple times and landscapes as they tease boundaries between coexisting realities. Is a key a gate, a gift, or an invitation? What Is Not Yours Is Not Yours captivates as it explores the many possible answers.
Editorial Reviews
Praise for Boy, Snow, Bird:
"Gloriously unsettling . . . The greatest joy of reading Oyeyemi will always be style: jagged and capricious at moments, lush and rippled at others, always singular, like the voice-over of a fever dream." —The New York Times Book Review
"Superbly inventive . . . examines the thorniness of race and the poisonous ways in which vanity and envy can permeate and distort perception." —O, The Oprah Magazine
"By transforming 'Snow White' into a tale that hinges on race and cultural ideas about beauty . . . Oyeyemi finds a new, raw power in the classic. In her hands, the story is about secrets and lies, mothers and daughters, lost sisters and the impossibility of seeing oneself or being seen in a brutally racist world. . . . [Oyeyemi] elegantly and inventively turns a classic fairy tale inside out." —Los Angeles Times
"The outline of Oyeyemi's remarkable career glimmers with pixie dust. . . . The atmosphere of fantasy lingers over these pages like some intoxicating incense." —Ron Charles, The Washington Post
Praise for Mr. Fox:
"Oyeyemi has an eye for the gently perverse, the odd detail that turns the ordinary marvelously, frighteningly strange." —The Boston Globe
"Startling, beautiful . . . [Mr. Fox] should not be ignored." —Chicago Sun-Times
About the Author:
Helen Oyeyemi is the author of five novels, most recently Boy, Snow, Bird, which was a finalist for the 2014 Los Angeles Times Book Prize. She received a 2010 Somerset Maugham Award and a 2012 Hurston/Wright Legacy Award. In 2013, she was named one of Granta's Best Young British Novelists.
The Schooldays of Jesus by J.M. Coetzee
LONGLISTED FOR THE MAN BOOKER PRIZE
From the Nobel Prize-winning author J. M. Coetzee, the haunting sequel to The Childhood of Jesus, continuing the journey of Davíd, Simón, and Inés
"When you travel across the ocean on a boat, all your memories are washed away and you start a completely new life. That is how it is. There is no before. There is no history. The boat docks at the harbour and we climb down the gangplank and we are plunged into the here and now. Time begins."
Davíd is the small boy who is always asking questions. Simón and Inés take care of him in their new town, Estrella. He is learning the language; he has begun to make friends. He has the big dog Bolívar to watch over him. But he'll be seven soon and he should be at school. And so, with the guidance of the three sisters who own the farm where Simón and Inés work, Davíd is enrolled in the Academy of Dance. It's here, in his new golden dancing slippers, that he learns how to call down the numbers from the sky. But it's here, too, that he will make troubling discoveries about what grown-ups are capable of. In this mesmerizing allegorical tale, Coetzee deftly grapples with the big questions of growing up, of what it means to be a "parent," the constant battle between intellect and emotion, and how we choose to live our lives.
Editorial Reviews
Praise for J.M. Coetzee and The Childhood of Jesus
"[The Childhood of Jesus] plunges us at once into a mysterious and dreamlike terrain. . . . A Kafka-inspired parable of the quest for meaning itself." —Joyce Carol Oates, The New York Times Book Review (front page)
"A return to form . . . [Coetzee's] most brisk and dazzling book." —Benjamin Lytal, The Daily Beast
"Compelling—eerie, tautly written." —Los Angeles Times
"[Coetzee] is a consummate withholder, one of the great masters of the unsaid and the inexplicit." —The New York Review of Books
About the Author:
J. M. Coetzee won the Nobel Prize in Literature in 2003 and is the author of twenty-two books, which have been translated into many languages. He was the first author to twice win the Booker Prize. A native of South Africa, he now lives in Adelaide, Australia.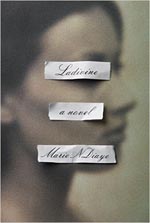 Ladivine by Marie NDiaye
From the hugely acclaimed author of Three Strong Women—"a masterpiece of narrative ingenuity and emotional extremes" (The New York Times)—here is a harrowing and subtly crafted novel of a woman captive to a secret shame.
On the first Tuesday of every month, Clarisse Rivière leaves her husband and young daughter and secretly takes the train to Bordeaux to visit her mother, Ladivine. Just as Clarisse's husband and daughter know nothing of Ladivine, Clarisse herself has hidden nearly every aspect of her adult life from this woman, whom she dreads and despises but also pities. Long ago abandoned by Clarisse's father, Ladivine works as a housecleaner and has no one but her daughter, whom she knows as Malinka.
After more than twenty-five years of this deception, the idyllic middle-class existence Clarisse has built from scratch can no longer survive inside the walls she's put up to protect it. Her untold anguish leaves her cold and guarded, her loved ones forever trapped outside, looking in. When her husband, Richard, finally leaves her, Clarisse finds comfort in the embrace of a volatile local man, Freddy Moliger. With Freddy, she finally feels reconciled to, or at least at ease with, her true self. But this peace comes at a terrible price. Clarisse will be brutally murdered, and it will be left to her now-grown daughter, who also bears the name Ladivine without knowing why, to work out who her mother was and what happened to her.
A mesmerizing and heart-stopping psychological tale of a trauma that ensnares three generations of women, Ladivine proves Marie NDiaye to be one of Europe's great storytellers.
Translated from the French by Jordan Stump
Editorial Reviews
Hypnotic…NDiaye writes profoundly disturbing novels in such riveting prose that one cannot look away. —Library Journal (starred review)
Mysterious…Eerie…[a] beautifully crafted novel —Publisher's Weekly
Elegant … bizarrely lovely… NDiaye's gift with language…[is] exquisite. She reveals only as much reality as she wants to at any given moment—and therein lies her magic.—Kirkus
About the Author:
MARIE NDIAYE was born in Pithiviers, France, in 1967; spent her childhood with her French mother (her father was Senegalese); and studied linguistics at the Sorbonne. She was only eighteen when her first work was published. In 2001, she was awarded the prestigious Prix Femina for her novel Rosie Carpe; in 2009, the Prix Goncourt for Three Strong Women; and, in 2015, the Gold Medal in the Arts from the Kennedy Center International Committee on the Arts.
Thus Bad Begins by Javier Marias
From the internationally acclaimed author of The Infatuations comes the mesmerizing story of a couple living in the shadow of a mysterious, unhappy history–a novel about the cruel, tender punishments we exact on those we love.
Madrid, 1980. Juan de Vere, nearly finished with his university degree, takes a job as personal assistant to Eduardo Muriel, an eccentric, once-successful film director. Urbane, discreet, irreproachable, Muriel is an irresistible idol to the young man. But Muriel's voluptuous wife, Beatriz, inhabits their home like an unwanted ghost; and on the periphery of their lives is Dr. Jorge Van Vechten, a family friend implicated in unsavory rumors that Muriel now asks Juan to investigate. As Juan draws closer to the truth, he uncovers only more questions. What is at the root of Muriel's hostility toward his wife? How did Beatriz meet Van Vechten? What happened during the war? Marías leads us deep into the intrigues of these characters, through a daring exploration of rancor, suspicion, loyalty, trust, and the infinitely permeable boundaries between the deceptions perpetrated on us by others and those we inflict upon ourselves.
*Named the #1 Best Book of the Year in Spain by El País*
"The book that defines Marías's oeuvre as one of Spain's most celebrated contemporary writers . . . Marías creates a symphony." —Boston Globe
"A demonstration of what fiction at its best can achieve." —Hari Kunzru, The Guardian
"Erudite, strange, hypnotic, and beautiful . . . One reads Javier Marías for his ability to make the smallest parts of the world come alive . . . I found myself most loving the book for its pages of brilliant observations, its musings and its suspenseful elegant voice . . . I could not put it down." —Los Angeles Times
"'Rear Window' in Madrid . . . Thus Bad Begins delivers all of Marías's trademark qualities—chewy philosophical meditation, prose of fastidious elegance, and the suspense of an old-fashioned potboiler . . . It's now clear that Margaret Jull Costa and Javier Marías have forged one of the most fruitful author-translator partnerships in current literature." —Sam Sacks, Wall Street Journal
"Fascinating . . . Hypnotic . . . As de Vere and Muriel try to get to the heart of matters, they discover secrets they wish they hadn't . . . but the reader will devour every exquisitely wretched revelation." —TIME
About the Author
JAVIER MARÍAS was born in Madrid in 1951. The recipient of numerous prizes, including the International IMPAC Dublin Literary Award and the Prix Femina Étranger, he has written fourteen novels, three story collections, and twenty works of collected articles and essays. His books have been translated into forty-three languages, in fifty-five countries, and have sold more than eight million copies throughout the world.
Translated from the Spanish by Margaret Jull Costa.
Secure the Base by Ngugi wa Thiong'o
For more than sixty years, Ngugi wa Thiong'o has been writing fearlessly the questions, challenges, histories, and futures of Africans, particularly those of his homeland, Kenya. In his work, which has included plays, novels, and essays, Ngugi narrates the injustice of colonial violence and the dictatorial betrayal of decolonization, the fight for freedom and subsequent incarceration, and the aspiration toward economic equality in the face of gross inequality. With both hope and disappointment, he questions the role of language in both the organization of power structures and the pursuit of autonomy and self-expression.
Ngugi's fiction has reached wide acclaim, but his nonfictional work, while equally brilliant, is difficult to find. Secure the Base changes this by bringing together for the first time essays spanning nearly three decades. Originating as disparate lectures and texts, this complete volume will remind readers anew of Ngugi's power and importance. Written in a personal and accessible style, the book covers a range of issues, including the role of the intellectual, the place of Asia in Africa, labor and political struggles in an era of rampant capitalism, and the legacies of slavery and prospects for peace. At a time when Africa looms large in our discussions of globalization, Secure the Base is mandatory reading.
Editorial Reviews
"Secure the Base is full of hidden connections. Born in 1938, Ngugi is one of Africa's most venerable literary figures. In this short, tightly argued collection of lectures and essays, he writes with the aim of 'making Africa visible in the world' by tracing the lattice of political and moral ties that stretch across the globe and back to Africa." (Independent)
About the Author:
Ngugi wa Thiong'o is Distinguished Professor of English and Comparative Literature, at the University of California, Irvine. He is the author of many books, including,The River Between, Petals of Blood, Wizard of the Crow, and Decolonizing the Mind.
Editorial Reviews
"Secure the Base is full of hidden connections. Born in 1938, Ngugi is one of Africa's most venerable literary figures. In this short, tightly argued collection of lectures and essays, he writes with the aim of 'making Africa visible in the world' by tracing the lattice of political and moral ties that stretch across the globe and back to Africa." (Independent)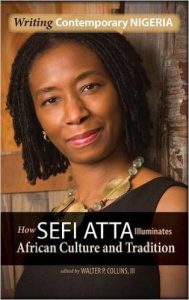 Writing Contemporary Nigeria: How Sefi Atta Illuminates African Culture and Tradition
by Walter Collins (Editor)
Sefi Atta is one of the latest in a great line of female Nigerian writers. her works have garnered several literary awards; these include the Red Hen Press Short Story Award, the PEN International David TK Wong Prize, the Wole Soyinka Prize for Literature in Africa, and the Noma Award for Publishing in Africa. Atta's oeuvre has received the praise and respect of several noted African writers such as Buchi Emecheta, Chimamanda Ngozi Adichie and Helon Habila. Atta's insights into the roles and treatment of women, neocolonial government structures, patriarchy, 21st-century phenomena such as Nigerian e-mail phishing and the role of geography and place in characters' lives make her works some of the most indelible offerings across contemporary African fiction. Nevertheless, there exists a relative dearth of critical analyses of her works. That Atta writes across the genres perhaps explains some of the lack of literary criticism of her works. This study will facilitate continued examination of Atta's writings and further dissemination of critique. In this premiere edited volume on the works of Sefi Atta, Collins has assembled contributors from around the globe who offer critical analysis on each of Atta's published novels and several of her short stories. The volume is divided into four sections with chapters grouped by thematic connections-Sisterhood, Womanhood and Rites of Passage, The City, Dark Aspects of Atta's Works and Atta's Literature in Application. The book examines Atta's treatment of these themes while referencing the proficiency of her writing and style. The collection includes an interview with Atta where she offers an insightful and progressive perspective on current language use by Africans. This book is the first aggregate of literary critique on selected works of Sefi Atta. This book is an important volume of literary criticism for all literature, world literature and African literature collections. It is part of the Cambria African Studies Series headed by Toyin Falola (University of Texas at Austin) with Moses Ochonu (Vanderbilt University).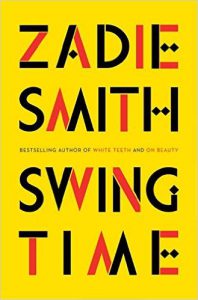 Swing Time by Zadie Smith
An ambitious, exuberant new novel moving from North-West London to West Africa, from the multi-award-winning author of White Teeth and On Beauty
Two brown girls dream of being dancers–but only one, Tracey, has talent. The other has ideas: about rhythm and time, about black bodies and black music, what constitutes a tribe, or makes a person truly free. It's a close but complicated childhood friendship that ends abruptly in their early twenties, never to be revisited, but never quite forgotten, either…
Dazzlingly energetic and deeply human, Swing Time is a story about friendship and music and stubborn roots, about how we are shaped by these things and how we can survive them. Moving from North-West London to West Africa, it is an exuberant dance to the music of time.
Editorial Reviews:
"Agile and discerning…With homage to dance as a unifying force, arresting observations…exceptionally diverse and magnetizing characters, and lashing satire, Swing Time is an acidly funny, fluently global, and head-spinning novel about the quest for meaning, exaltation, and love…This tale of friendship lost and found is going to be big."—Booklist (starred)
"The narrative moves deftly and absorbingly between its increasingly tense coming-of-age story and the adult life of the sympathetic if naïve and sometimes troubling narrator…A rich and sensitive drama highly recommended for all readers."—Library Journal (starred)
"A keen, controlled novel about dance and blackness steps onto a stage of cultural land mines…Smith is dazzling in her specificity, evoking predicaments, worldviews, and personalities with a camera-vivid precision…Moving, funny, and grave, this novel parses race and global politics with Fred Astaire's or Michael Jackson's grace."—Kirkus Reviews (starred)
"As ever, Smith plies her signature humor and sensitivity as she traces the contours of race and lived experience."—ELLE.com's Must-Read Books for Fall
"[A] powerful and complex novel…Rich and absorbing, especially when it highlights Smith's ever-brilliant perspective on pop culture." —Publishers Weekly (starred)
About the Author:
Zadie Smith was born in Northwest London in 1975 and still lives in the area. She is the author of White Teeth, The Autograph Man, On Beauty, Changing My Mind, and NW.