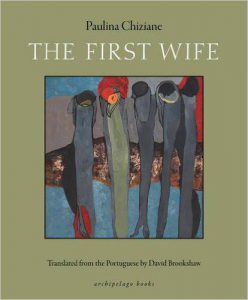 The First Wife: A Tale of Polygamy by Paulina Chiziane
After twenty years of marriage, Rami discovers that her husband has been living a double–rather, a quintuple–life.
Editorial Reviews
"Rami's realistic, back-and-forth struggle to believe the promises of her lying but charming husband remains suspensefully unresolved right up to the last page and the final surprise. Chiziane's down-to-earth style in The First Wife is that of an African storyteller, sometimes rhythmical and repetitive, frequently composed of short, staccato sentences in an exclamatory rush…. Feisty and exuberant, ferociously candid… With delightful complications and unexpected plot turns, Chiziane's battle of the sexes is like none other in world literature." — Shelf Awareness
"This novel by Chiziane, the first published Mozambiquan female novelist, is daring, biting in its critique." — Kirkus Reviews
"A careful examination of tradition clashing with modernity, most prevalently the place of women within Mozambique's society, and within the world in general. . . Slowly, painfully, as tradition looms in the background, Rami and the other women in Tony's life begin to discover a space for themselves and what it can mean to be more than a part of a "loving hexagon."" — Publishers Weekly
"Chiziane has crafted a story that is at once an affirmation of African feminism and a rousingly entertaining tale of female friendship that would please any fan of best-selling women's fiction… Both informed reading and terrific fun for a wide range of readers." — Library Journal (starred review)
"Chiziane explores the economics of love and marriage in a country burdened with a history of violent conflict, where men are few and women not necessarily educated or welcomed into the workforce. In such a society, she says, men are the breadcrumbs women must fight over.[…] For better or for worse, so many of the questions about gender, marriage, and money feel familiar and relevant, even to readers for whom polygamy feels profoundly foreign." — Carolyn Silveira, Words Without Borders
"The style of writing in the novel feels like an oral tradition. There are repeated phrases, metaphors, similes – often in patterns. I could hear it in my mind the way a mother might pass on the words to her daughter, to prepare her, to warn her." — Jenny Colvin, Reading Envy
"The First Wife, smoothly translated by David Brookshaw, rises above its satire by confronting a mysogynistic practice head on … Chiziane, who prefers to be called a storyteller instead of a writer, is cited as her country's first published female novelist … The First Wife [is] an excellent example of her courage." — Michael Barron, The Culture Trip
"[Paulina Chiziane] is a storyteller, deeply rooted in the soil of her tradition, with a clarity and poetry that has character, strong colours, subtle hues and melodies without being ethnic or local… Chiziane has an elegantly mature authorial voice, a beautifully balanced lyricism and an unfailing sense of imagery and human emotion. Hers is a voice comfortable with its timbre and the flexions of its tonality, aware of the difficulty – and dire necessity – for simplicity… The First Wife is a voice that will not be silenced, it is a powerful, original experience of what it meant to listen to a story by the fire – frightening, enthralling, harrowing and wondrous, mystical, inescapable." — Bookanista
"A lively, engaging read." — The Complete Review
"This is a powerful and angry book. . . Yet, for all its fury, the narrative is underpinned by an appreciation of the interconnectedness of the human experience. . . The writing is urgent and surprising." — A Year of Reading the World (blog)
"In the style that characterises her writing, the novel pulls no punches, and the polemic it constructs is passionate and engaging. The First Wife is alive with intrigue and happenings…It is this sense of strength, of resilience, of passion, and simultaneously of acceptance, of resignation that both excite and irritate that make Niketche such an enjoyable and provocative read." — Tony Simões da Silva, African Review of Books
"… the narrator expreses the suffering of all women, divided between the desire to live and what appears to be an inner death (…) condemned to lose all her battles and to drift in the shadows." — Geneviève Vilner, Plural-Pluriel
"… the theme also allows her to lead the reader to discover a country and its customs, and to create some magnificent depictions of women." — Olivia Marsaud, Afrik.com
"What we have, in Paulina, is the most authentic representation of the problems faced by women in Mozambican society." –Teresa Noronha, Jornal de Notícias
About the Author
PAULINA CHIZIANE was born in an area of Mozambique in 1955 in which communication with the white colonizers was forbidden. She devoted herself to writing in her mid-twenties and became the first Mozambican woman ever to publish a novel. She claims, however, that she is not a novelist: "I am a storyteller… I take my inspiration from tales around the campfire, my first art school." Her works explore themes of race, polygamy, colonization, and cultural change in her country, quietly signaling a new era for African feminism.
ABOUT THE TRANSLATOR: DAVID BROOKSHAW is a London-born professor of Brazilian Studies at the University of Bristol specializing in comparative literature, translation, and postcolonial Portuguese literature. He has translated works by Mia Cuoto and Onésimo Almeida and compiled an anthology of stories by the Portuguese author José Rodrigues Miguéis.