Yoruba Art and Language: Seeking the African in African Art, Cambridge University Press, (2014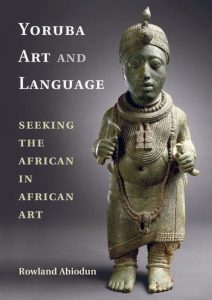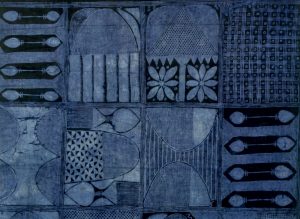 The Yorùbá was one of the most important civilizations of sub-Saharan Africa. While the high quality and range of its artistic and material productions have long been recognized, the art of the Yorùbá has been judged primarily according to the standards and principles of Western aesthetics. In this book, which merges the methods of art history, archaeology, and anthropology, Rowland Abiodun offers new insights into Yorùbá art and material culture by examining them within the context of the civilization's cultural norms and values and, above all, the Yorùbá language. He begins by establishing the importance of the concepts of oríkì, the verbal and visual performances that animate ritual and domestic objects, such as cloth, sculpture, and dance; and àṣẹ, the energy that structures existence and that transforms and controls the physical world. Both concepts served as the guiding principles of Yorùbá artistic production. Through analyses of representative objects, Abiodun demonstrates how material culture expresses the key philosophical notions at the heart of the Yorùbá worldview. Abiodun draws on his fluency and prodigious knowledge of Yorùbá culture and language to dramatically enrich our understanding of Yorùbá civilization and its arts. The book includes a companion website with audio clips of the Yorùbá language, helping the reader better grasp the integral connection between art and language in Yorùbá culture.
Reviews of Yoruba Art and Language: Seeking the African in African Art (2014)
Abíọ́dún's major work, Yoruba Art and Language is simultaneously a work of art history, archaeology, and anthropology. He presents new insights into Yorùbá art and material culture by examining them through the context of Yorùbá language and praise poetry. The following is a selection of reviews of the book:
Ultimately, the principal value of Abiodun's important book is his confirmation that Yoruba art and language do not merely intersect. Many other Yoruba and Yorubaist art historians have quoted illustrative odu Ifa, oriki, or other aspects of oral literature in their discussion of objects in enriching ways. Rather, what Abiodun demonstrates is that art and language walk such parallel paths that they reinforce one another like a doubled underscore. ~ Kathy Curnow, YORUBA STUDIES REVIEW, 2018.
Decades after the creation of the field of African studies, post-pioneer Africanist art historians and Western-trained African scholars are still taking for granted the centrality of Western languages, Western art historical principles, Western art periodization, Western artistic concepts, and Western-derived theories in studying African art. The process assimilates African art into the Western artistic scheme as if Yoruba creative expression accords wholly with Western aesthetics, but places it at a lower creative level. Abiodun's groundbreaking book challenges the validity of this assimilationist philosophy and methodology. He focuses attention particularly on the superficiality of interpretations, the non-apprehension of the Yoruba conception of art, and the shortcomings of Western languages and conceptual frameworks in understanding African artifacts. ~ Nkiru Nzegwu, JOURNAL OF ARTHISTORIOGRAPHY, 2018. Click here for the Full Text of this Review.
"Yoruba Art and Language: Seeking the African in African Art provides a seminal and authoritative work pertaining to Yoruba art and languages of Nigeria. Rowland Abiodun, the John C. Newton Professor of Art, the History of Art and Black Studies at Amherst College, is an astute art historian, researcher, and culture activist, whose work will withstand the test of time and critical appraisal." ~Tunde Babawale, AFRICA TODAY, 2015 Click here for the full text of this review.
"The unique achievement of Yoruba Art and Language lies in its sustained analysis of art objects with a hermeneutics derived from historically Yoruba intellectual and critical practices. Its interpretation of Yoruba arts engages Yoruba speech, itself not less artistic, about arts and repudiates the "point-and-shoot" approach to art history that transposes Euro-American discourses to Africa en bloc. The book does not stress difference for its own sake but for the sake of abstracting the insightful values that intellectual difference bears for understanding the arts. … Abiodun makes the studied art objects speak Yoruba words convincingly while acknowledging that the works exhibit qualities of beauty and meaning that are found in many places that are not Yoruba. Its contribution to comparative aesthetics from the Yoruba part of the world is very impressive" ~Adeleke Adeeko, AFRICAN QUARTERLY REVIEW, 2015 Click here for the full text of this review.
"With a robust research career that spans over four decades, Rowland Abiodun has consistently advocated for the inclusion of the language of the people when their art is being studied. He lucidly articulates that idea, using the Yoruba esthetic thought and language embedded in the oriki (praise or citation poetry) as valid exemplars." ~Ndubuisi C. Ezeluomba, AFRICAN STUDIES QUARTERLY, 2016. Click here for the full text of this review.
"Abiodun states boldly: "the urgent task before us is to ensure the survival and essential role of African artistic and aesthetic concepts in the study of art in Africa." …"He provides new analytical techniques that can provide models for art and culture scholars not only in the Yoruba world but also in sub-Saharan Africa, as well as for those in other parts of the world who need knowledge of indigenous perspectives to enrich their understanding of African visual culture." ~   Ropo Sekoni,  Ooduapathfinder.com 2016
"It is possible that with this publication Professor Rowland Abiodun has consolidated a recognizable 'school of African art history one that is genuinely African, in terms of its geographic origin certainly, if not necessarily wholly in its approach towards the discipline … It is to compliment Professor Abiodun's work that his book as a history of (an)art (or arts) stands comparison to Michael Baxandall's close reading of art and language in fifteenth-century Italy. " ~W. Rea – AFRICA: THE JOURNAL OF INTERNATIONAL AFRICAN INSTITUTE, 2015 Click here for the full text of this review.
"For scholars of African art, Abiodun brings new levels of understanding, nuance, and insights for consideration to already familiar works and forms. Applicable to all art historians, Yoruba Art and Language emphasizes the need to beware of the cultural, and specifically the linguistic, contexts in which art is made."  ~Lynne Ellsworth Larson,caa. reviews, 2016. Click here for the full text of this review.
"… he questions the validity of recent claims that associate particular sculptures with a past king of Ile-Ife, Obalùfòn. Since such claims rely on contemporary information about sculptures that derived from archaeological excavations and accidental discoveries, how can we be sure that these informants were not simply fitting these finds into their own preconceptions and narratives of the past? The methodological sloppiness of accepting such claims as gospel truth (especially when cited as information provided by a king, priest, or chief) raises questions about the misuse of oral traditions and informants…Yoruba Art and Language will serve as an enduring source of knowledge and wisdom for scholars and the general public. It will also inspire new works that seek to understand the experience of time in Yoruba visual art. Rowland Abiodun has taken us to the right place to start the next generation of scholarship on African art and Yoruba cultural history. "~Akinwumi Ogundiran, AFRICAN STUDIES REVIEW, 2015 Click here for the full text of this review.
"If we take Abiodun's points seriously, facile extrapolations from a static Yoruba "there" to an essentialized Yoruba "here" cannot but undervalue the ways in which descendants in the diaspora have made their lived circumstances meaningful through art. Just as the notion of "Yoruba" in the Americas has acquired new symbolic resonances that spur interest in the past, this fine book will inspire attentive readers to bring fresh insights to the complementary relationship between language and art. Sections of the book will be excellent additions to college and university courses, particularly those making the point clearly that whatever their permutations, Yoruba concepts and arts in the America shave been relocalized and translated, and thus changed: still grounded in language and culture, but transformed through imposed limitations, negotiated mixtures, and transnational migrations. Abiodun reminds us that such dialogic relationships are widespread throughout Africa; certainly the coding of proverbs and praise names in material forms, for example, bears this out. This dialog offers much for those who work in the Americas to ponder." ~Grey Gundaker, AFRICAN STUDIES REVIEW, 2015 Click here for the full text of this review.
"Abiodun's Yoruba Arts and Language challenges art history to invest in methodologies that champion intercultural perspectives. In a small field such as African art studies, it is easy to mistake the criticism this challenge implies as personal attacks on individual scholars. Such a reading makes it difficult to engage previous research, which often reduces research on specific African art and cultures to the work of a single interlocutor. A field where extant research cannot be subjected to criticism is moribund and unprofessional, since challenges to existing orthodoxy are the only way to advance knowledge. Abiodun calls for radical interrogations of research protocols and methodologies in order to make the study of indigenous African art newly relevant to a younger generation of art historians. Such significant revision is necessary if the study of indigenous African art is to survive without as Abiodun contends, effacing the "African" from African art."~Sylvester O. Ogbechie,  AFRICAN ARTS, 2016. Click here for the full text of this review.
Rowland Abiodun is one of the most distinguished historians of African art in the world and his latest work is a crowning achievement…  In Yoruba Art and Language Abiodun demonstrates that the meanings of Yoruba visual arts – so prized by collectors and museums – can and should be illuminated by the recognition of complementary verbal arts…The verbal "de-riddles" the visual…Nowhere is this "de-riddling" more effective than when Abiodun reviews some of Yorubaland's most famous artistic creations, the copper and terra cotta portrait busts excavated at Ifẹ̀ and determined to date from the twelfth to the fifteenth centuries CE…Each chapter of Yoruba Art and Language is concerned with a different religio-aesthetic concept in Yoruba thought and how it is expressed in intertwined verbal and visual media…The total effect is a master work from a master scholar and the most thorough illumination of Yoruba religious art to be found.  ~ Joseph M.Murphy, MATERIAL RELIGION, 2016. Click here for the full text of this review.
By showing how the Yoruba used their metaphysics to elucidate works of human creation, Abiodun disproves the view that pre-literate African cultures did not reflect on the aesthetic qualities of their artifacts. ~ Albert Moseley, JOURNAL ON AFRICAN PHILOSOPHY,2016. Click here for the full text of this review.
In sum, Yoruba Art and Language: Seeking the African in African Art is a book written with wit, argued with verve, supremely confident in its thesis, and exhaustively documented. Most important, this is a breathtakingly original book that is destined to alter our understanding of Yoruba art and aesthetics forever. ~Olufemi Taiwo, NKA: JOURNAL OF CONTEMPORARY AFRICAN ART, 2017. Click here for the full text of this review.